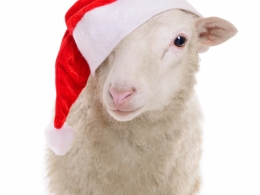 It's around this time of year that many people think about who they want to re-connect with. Christmas card lists, party invite lists and annual family phone call lists are being made in households across the country. But is a call to your insurer anywhere on the list? No, not to give festive greetings (unless you really want to!) but to let them know about any seasonal activities you've got planned that might mean changes to the cover you need.
Whether you're doing a favour for the local community church or looking to make a bit of extra income, opening your doors to the public or bringing your stock out and about could mean changes to the level of public liability insurance you need.
Are you a turkey farmer planning to sell your homegrown produce at the local farmers market or from your farm gate? Or do you have a few geese you're planning to sell this year? In these cases, members of the public are likely to come onto your land so public liability insurance becomes important. You may already have cover for products and public liability but it's important not to assume that this is the case. Different activities pose different levels of risk which is why many insurers will want each activity and occupation detailed.
For many families, visiting a local farm and picking your own Christmas Tree has become an annual tradition and is a good income stream at this time of year for many farmers. But again, you'll need to make sure your insurance covers you for product and public liability. The level of cover needed could depend on the type of setup you've got. For example, are the trees pre-cut? Are you running a 'you choose we chop' operation or can families choose and chop themselves? The latter is probably most fun for families, but it also carries more risk.
Have you been asked to bring along livestock to a local village event or nativity play as a favour? The live animals are always popular with audiences and they certainly add an extra excitement to the show. Just don't forget you could be exposing yourself to unintended consequences. What happens if a sheep knocks a child off balance, they fall over and hit their head on the concrete? The result could be a public liability claim so just make sure you've checked with your insurer that you're covered in the event of someone getting injured from your livestock both on and off the farm.
Although it's not common, you may decide to have reindeers on site to attract visitors to your farm experience or farm shop. Again, you'd be liable if the animal caused harm to the visiting public so just make sure you've got the right cover and you've carried out the right risk assessments.
Having public liability insurance isn't a legal requirement but it's often considered an essential element of cover for all farmers.
Many farm insurance policies will have a section on public liability and it's more than likely you'll have a certain level of cover already included in your existing farm combined insurance policy. However, the policy will be based on the information you've given to your insurer. If you decide to do something outside your normal farming practises this Christmas, you may not be covered so it's important to speak to your insurer or broker when pursuing a new venture.
A quick call to your insurer could save you thousands of pounds in the long run and will give you peace of mind during the season of peace on earth. And if you want to wish them a happy Christmas at the same time then all the better!