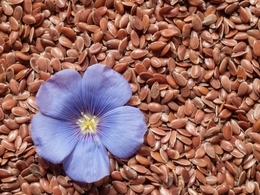 When talking about diversifications on your farm, what springs to mind? Renewable energy production? Glamping and B&Bs? Holiday lets? But if these aren't for you then there are plenty of other animal or crop diversifications out there that could bring in that extra income stream.
Growing speciality crops is just one of them.
Because these crops tend not to have futures prices associated, there are speciality intermediaries who will give you a guaranteed price per hectare in advance of you sowing the seeds. All you need to do is meet certain quality criteria.
So what crops could you consider?
Brown linseed – this crop is mostly used to produce oils for paints and varnishes. There are around two million tonnes produced globally and there are high yielding 'easy cut' varieties available. It can be grown in both spring and winter.

Naked oats – in high demand from birdseed and pet food manufacturers, this crop has the same agronomy as conventional oats but will fetch a significantly higher price than husked oats (around £170/t in November 2017). There's no risk of over-supply so there is a minimal risk of a price crash which also makes this an appealing crop.

High Erucic Acid Rape (HEAR) – used as high temperature lubricants and slip agents in the industrial sector as well as in consumable spreads and cosmetics, the crop has similar yields and agronomy to the conventional '00 crop, but with a £35/mT premium.

Red wheat – a higher protein option to regular wheat (therefore producing bigger loaves), this crop carries a £150/mT premium. Sowing dates are March and April and they tend to harvest around two weeks earlier than normal varieties which can spread the harvest more evenly.

Canary seed – is also grown for the birdseed industry and carries a price of around £350-450/mT. There is generally a high demand and it is a late spring drilled cereal (April-May).

Millet – another birdseed industry favourite, you can expect to get around £200-250t/ha. It's also late spring drilled so has a short season.
Compared to some of the more traditional crops on a gross margin per hectare basis, these specialist varieties offer a potentially lucrative alternative to some farmers.
Source:
November 2017 Farm Business Innovation show seminar: 'Speciality crops: the highlights' given by Nigel Padbury of Premium Crops Ltd.