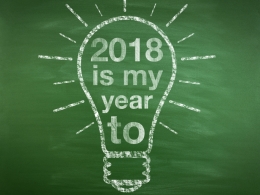 Eating less, exercising more and learning new skills are all common new year's resolutions that many of us set out to achieve every year. But have you thought about any New Year's resolutions for your farming business?
Whether you decide to start small or go big, the beginning of a new year is a great opportunity to assess your current farming enterprise and consider new opportunities that could benefit both you and your agricultural business.
We've put together a list of possible farming resolutions for you to consider this year:
1. Look for a new income stream
Many farmers are already benefiting from diversifying – could you do the same in 2018? Think about what assets you have. You could convert an outbuilding into a farm shop or stables, become and agricultural contractor, use a field for camping, glamping or even clay pigeon shooting. And don't forget diversifying doesn't always have to be related to retail or tourism, simply introducing a new breed of cattle or type of livestock could provide you with new opportunities. For example, have you ever thought about having Bed and Breakfast pigs?
2. Go digital
More and more farmers up and down the country are investing in technology to help improve efficiencies, drive productivity and reduce costs on their farm. Depending on whether you're a livestock or arable farmer there are different types of technology you can invest including:
Robotic milking systems can help reduce labour costs, increase production and improve the health of the dairy herd
Drones to help with soil and field analysis, planting, crop spraying and monitoring
Electronic tag readers and software to help record data and help improve stock management.
GPS based applications in precision farming can help manage your arable crops.
3. Seek financial opportunities
There are several grants available to UK farmers and landowners. All you need to do is research! The best place to start is to look online at the Government website. Recent opportunities that are open for application include:
The Countryside Stewardship Scheme
Countryside Stewardship Woodland creations grant for up to £6,800.
4. Keep up appearances
Putting time aside to keep your farm tidy before the workload starts to pick up in Spring is something to consider. Not only does this improve the appearance of your farm it also reduces the risk of injury. In 2017 20% of non-fatal injuries were caused by slips, trips and falls on the same level. That's why its important to remove any obstacles and keep your farm tidy!
5. Listen and Learn
Everyday is a school day, even in farming. And in an industry that is constantly developing it's important to keep yourself and your employees up-to-date with the latest best practises within the agricultural field. From learning how to safely use pesticides to developing new skills such as dry-stone walling, there are training courses and qualifications to suit everyone.
And remember, whatever you decide to do you should contact your local farm insurance broker to make sure any changes you do make are covered under your existing farm combined or farm motor insurance policy.
Sources:
https://www.gov.uk/topic/farming-food-grants-payments/rural-grants-payments
https://www.farminguk.com/news/Farmers-urged-to-apply-for-new-woodland-grant_48251.html?refer_id=1900#.WkzU3XkgivA.twitter
http://www.hse.gov.uk/statistics/industry/agriculture/agriculture.pdf