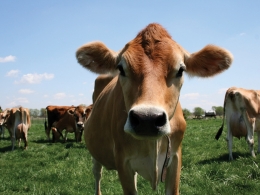 For any dairy farmer, milk is arguably one of the most important assets on their farm so keeping it free from contamination through the production process is crucial. But whether through introduction of bacteria or damage of storage, accidents can happen so it is important to have cover for loss or contamination of your milk. This was something one of our customers from Wales found out back in 2016.
What started out as a routine collection turned into something more when the driver of the milk tanker and the farmer noticed the milk had risen above its required temperature. A quick inspection revealed damage on the cooler of the tank, likely caused by a cow that had escaped from the parlour earlier in the afternoon. Because bacteria grows rapidly in increased temperatures, the driver was unable to collect around 19,000 litres of milk.
The cost to the farmer was around £3,800. As well as being covered for the cost to repair the tank, our customer had chosen to extend his policy to cover loss of milk for up to £2,000 so was covered for over half the cost of the loss.
This case highlights the importance not only of taking out the right cover for all aspects of your farm, but also of reviewing policy limits as your business grows and develops.
Development Underwriter Kelly Shutt says its important farmers take out the right cover and review policy limits in the light of changes to the business. Whether the farmer has reduced or increased stock numbers, both will have an impact on production which ultimately has an impact on their level of insurance cover.
"While loss of milk is not one of our more common claims, it can have a major impact on a dairy farmer's income so we believe it is an important element of cover. And a regular review with your broker means you can change your cover levels in line with any changes to your business".
Kelly Shutt, Development Underwriter