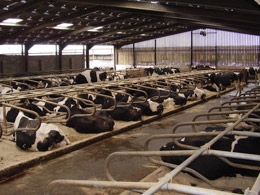 Farmers do everything they can to look after their animals but sometimes incidences occur that are out of their control. Fatal injuries can be caused from straying but more often than not many happen on the farm.
In 2016 we received 250 claims associated to fatal injury of livestock including on the owner's premises, away from premises, in transit and from poisoning. Fatal injury to livestock on the owner's premises was the most common type of claim, accounting for 44% of fatal injury claims and worth £167,587.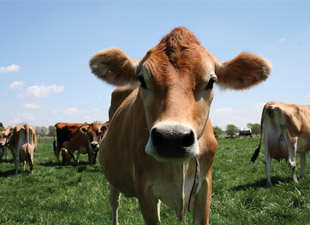 Due to their very nature, the modern dairy cow is bred for milk production and, therefore, tends to be finely boned and angular in shape and less robust than the traditional beef breeds. As a result dairy farmers are at risk of stock sustaining injuries while on the farm. Most incidents tend to result from a cow slipping on concrete and becoming splayed or trapped within the cubicle partitions. In other cases they can get their heads trapped in a feeder or gate causing asphyxiation.
Generally, most farm insurance products provide cover for fatal injury to livestock if they stray from the premises or escape from its normal confines. Therefore, a number of incidents experienced on farms would not be covered or, at the very least, surrounded by some ambiguity.
Under our Farm Combined & Livestock policy, cover can be extended to provide insurance for fatal injury to livestock both on and off your premises, making this cover suitable for incidents and losses which are more likely to occur on your farm.
"Most insurers do not offer this extension. Being able to cover livestock on the farm is a really valuable benefit to our customers and shows that Rural really understands the needs of farmers"
Ryan Roberts, H&H Insurance Brokers
Case study examples: Fatal Injury on own premises
Trapped in a cubicle
In May 2016 a dairy farming customer found a Holstein Friesian cow that had been housed all winter, down in the cubicle building unable to stand. A veterinary surgeon attended and diagnosed the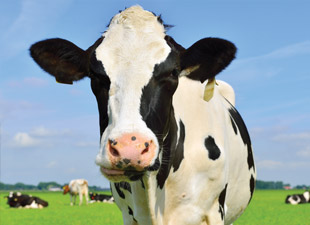 incident as a catastrophic traumatic pelvic injury to the left hip, and advised that the animal was to be euthanased on humane grounds. The injuries identified are consistent with animals which get trapped in the cubicle beds. The farmer was fortunately covered for fatal injury on their own premises so was able to claim for the value of the animal estimated at £1,400.
Slipping in the cow shed
In November 2016 another customer, a Cumbrian farmer, had a pedigree Holstein Friesian herd comprising of approximately 200 milking cows. One animal was found down first thing in the morning and the other late morning. Both were separate incidents but both cows had suffered untreatable hind limb paresis as a result of falling. The injuries were so severe that they were euthanased on welfare grounds by the attending veterinary surgeon. There were no factors found which could be considered to have increased to risk of slipping for the cows. As such under the fatal injury whilst on own premises cover our customer was able to claim for the value of both animals. The two pedigree cows were valued at £2,150 and £1,820.
Having insurance for your livestock, particularly for fatal injury on your own premises gives you the ability to replace stock in order to maintain capacity and productivity levels.