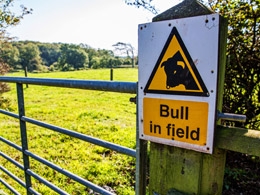 Public liability insurance is a must-have for any farm. It will make sure you're covered if a member of the public is injured on your farm or if you are responsible for damage to another person's property.
The importance of Public Liability insurance
When thinking about members of the public on your property, diversifications like farm shops, campsites or farm gate sales spring to mind. But even if you don't have one of these income streams, members of the public might visit your farm for other reasons. For example, are you covered if a delivery driver or a contractor injures themselves on your property?
You'll also need to be covered if your livestock escapes and causes injury to an individual or damage to property. At Rural Insurance, we saw 45 claims relating to livestock escaping and causing injury or damage in 2016. The high cost claims came not from the death or injury to the animal but injury to members of the public or damage to their property. Fortunately in these instances our customers had public liability cover.

Public Liability insurance can cover you for:
Accidental injury to others
Accidental loss of accidental damage to someone else's property

Things to think about
Typically a standard farm insurance policy will cover you for up to £5 million in respect to one incident or during the period of insurance. However, higher levels are available on request.

Even if a member of public is on your property without permission, you could still be liable.

Public liability insurance doesn't cover you if something happens to an employee (even workers who are just helping out temporarily). You'll need Employer's Liability insurance for this.

You could be liable for an incident that occurs away from your property. For example, if a member of the public is injured as a result of mud on the roads from your vehicles or even a vehicle used by one of your contractors.

Examples showing the importance of Public Liability insurance
One of our customers needed to call on their public liability cover when several cattle escaped from a field and ended up on a motorway. This resulted in a collision of several cars, leading to destruction of vehicles as well as physical and psychological injuries to the vehicle occupants involved. The incident resulted in a claim potential of over £110,000.
While helping our customer herd some straying cattle off his farm and back to their home, a neighbouring farmer sustained an injury which resulted in a claim against our customer. This was covered under his public liability insurance.