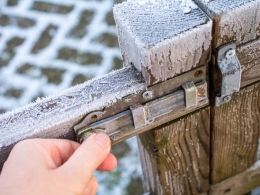 Business interruption insurance covers you for lost income during periods when you can't carry out business as normal following an unexpected incident.
The importance of business interruption cover
As a farmer, your business is your livelihood. If something happens to your buildings or machinery, you need to get back up and running as quickly as possible. Your standard insurance cover is likely to cover the replacement or rebuild, but it will not cover your lost income during this period.
If your business doesn't have reserves to keep the cash flowing during this period, then you run the risk of become one of the 80% of businesses that fail within 18 months of a major incident. Business Interruption cover helps reduce this risk*.
Business interruption insurance can cover you for lost income as a result of:
Damage caused to your premises or equipment by fire, storm or flooding
Accidental electrocution of livestock
Damage at your suppliers that has an impact on your business
Loss as a result of forced sale of dairy cows
Disease or theft
Loss as a result of panic and suffocation
Rural's business interruption cover is available to cover either lost revenue or increased costs of working (for example, paying overtime in the event of an incident), or both.
Things to think about
When thinking about how long you might be out of action for (your indemnity period), think about rebuild timescales, seasonal considerations, lead time for new equipment or repairs, cost for new employees and relocation costs. Rural's Claims Manager observes that in general people under-estimate these timescales so adding 20% onto original timescales could help.

Income will usually be calculated based on the previous year so having an accurate picture of your records will help calculate the cover level you might need.

Your business interruption cover will likely mirror your main business insurance so if you're not covered for flooding in your main policy, you're unlikely to be covered for business interruption in the event of a flood.
An example showing the importance of BI
When a client's fruit farm building was destroyed by fire, not only did they have insurance for the building, machinery and other contents, they also had business interruption cover. This meant they received nearly £200,000 to cover lost income during the 12 months it took to rebuild their operation. We took into account their previous years' income but also considered two new major contracts our customer had secured which would have made a positive contribution to their business.
*http://elitebusinessmagazine.co.uk/finance/item/up-in-flames