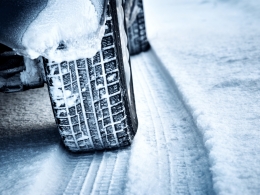 Whether you're a farmer relying on agricultural vehicles or a plumber, baker or builder with your own vans and cars, we know how important your vehicles are to the day to day running of your rural business.
So with the winter months approaching, now is a good time to make sure your agricultural and business vehicles are winter-ready.
Sometimes it's the simple things that can be overlooked so we've put together a basic checklist.
Winter MOT
Are your tyres above the legal limit?
If you're driving at 50mph in wet weather with tyre treads at 1.6mm it can take an extra two car lengths to stop than if your tread was at 3mm. 1.6mm is the legal limit so for safety reasons so it's important to check your tyres and replace where necessary.

Don't let your battery go flat
Did you know it can take up to twice as much current to start your car engine in cold weather than in normal conditions, which is why many car batteries fail over the winter months. To prevent this from happening drive vehicles regularly to allow your battery to recharge.

Keep your windscreen wash topped up.
Throughout the winter months your visibility can become restricted due to spray caused by the wetter road conditions. The highway code states that it's essential you can see and can be seen by others so it's a good idea to check your screen wash now and also before you start a long journey. Don't forget as it's winter you'll need to mix your water with an additive to prevent it from freezing.

Have you checked your oil levels recently?
​Checking your oil level is often overlooked but it's essential in keeping your engine working and your car on the road. It's simple and quick to do so there's no excuse not to perform regular checks.
Pack your winter kit
If you're travelling long distances or staying overnight this winter and your vehicle breaks down then a winter kit could make a big difference to your safety and comfort. Consider packing:
An ice scraper
Warm clothing
A torch & batteries
Two reflective warning signs & high visibility jacket
Food & Drinks
Winter driving for employers
If you employ others in your business then think about whether journeys in bad weather are absolutely necessary. If the weather is severe and a journey can be avoided then make sure your employees know this is your stance. And if a journey must be taken encourage employees to think about the route they plan (can they avoid black spots or ungritted roads?), appropriate journey scheduling to allow for frequent stops. You should also make sure your team is aware of what to do in the event of an accident, breakdown or getting stuck.
And finally, it always pays to give your vehicle insurance a quick check to make sure you've got all the cover you want. If you're looking at private car and commercial vehicle insurance do you need a courtesy car and breakdown cover option? And have you made sure all your off-road agricultural vehicles are covered?
By taking a bit of time to run through the basics you can make sure you're well prepared for the challenging conditions on the roads and on the farm that winter can sometimes bring.
Sources:
https://www.kwik-fit.com/tyres/information/uk-tyre-law
https://www.racshop.co.uk/advice/top-10-car-battery-facts
https://www.rospa.com/resources/hubs/winter/