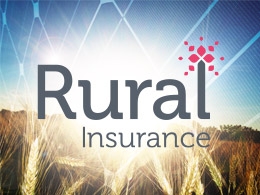 Last year Rural celebrated its 20th Anniversary. And when we look back we are proud at how far we've come in this time.
We have a growing set of products for rural businesses and we look after the farms and vehicles of over 24,500 policy holders. We're a growing, profitable business which has experienced five years consecutive GWP growth. We've achieved this through strong partnerships and currently work with more than 600 broker partners up and down the UK. We're grateful for the trust our brokers show in Rural and we work every day to repay that trust. But we want to do more.
We have an ambition to establish Rural as the number one specialist insurer for rural communities. We want to challenge established market norms through our ability to be flexible and enable progression.
And our broker network – who are key to everything we do – have told us that they want a partner brand that will be a recognised alternative to the market leaders.
The rural economy is constantly adapting, growing and evolving. It is worth £211bn and supports more than 7 million jobs. And agriculture is at the heart of this economy. It is a sector with evolution coursing through its veins and now delivers retail, tourism, catering, energy and education… and the list is growing.
But progress doesn't just happen. It's strived for by people who know that the rural economy never stands still. It's achieved by those who work together to take the steps, however small, to adapt, improve and grow. And it's insured by a partner that understand how to make change work quickly and decisively.
Our policy holders have told us they see insurance as an important part of running their business. A way of enabling future plans and keeping today's activities covered. They have told us that although rural communities face challenging times, they feel optimistic about the future and they are embracing the changes that are needed for progression.
Our trading partners have told us they share our ambition to challenge the status quo and grow their business. And they are looking to us as the brand to partner with to turn this ambition a reality.
This is why we have rebranded. We have a new identity which we feel reflects this ambition.
Our new brand represents the opportunity and optimism about the future of rural communities and the role insurance plays in enabling customers to make changes, no matter how small, to grow and thrive.
Our brand is a promise to our customers that we will support and enable growth and progression in this changing rural economy.
While we have changed our brand to better support our customers and trading partners, we still have the same great people offering the same great service which we know is a valued part of what we do at Rural.
More than just a new logo and set of colours, the rebrand of Rural Insurance is an exciting step on our journey towards our ambition of becoming the number one specialist insurer for rural communities.
We hope you are as excited as we are about this change and would welcome your feedback on our new brand.
Ian Barclay