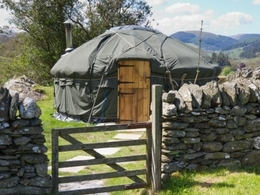 Glamping is big business in the UK – with a 2017 IBIS world report valuing the camping and caravanning market at $3bn with growth in recent years having come from the popularity of glamping.
A lack of land is often cited as a major barrier to starting up this type of business, making many farmers well placed to take advantage of the returns a successful glamping business can offer.
According to Edward Busby, co-founder of Crown and Canopy, there are six important steps to setting up your glamping business. He spoke to farmers at the 2017 Farm Business Innovation show and provided these useful insights for anyone thinking about glamping for their farm diversification.
1. Appraisal
Living on your farm day in day out you may take for granted the beauty spots on the land but finding what makes your site unique and pinpointing a site location will make you stand out from the crowd. It might be a view, a sunset, river, lake or farm attraction.
On a more practical level, appraise the feasibility. Is it flat enough? What is access like? For example, a walk to the site helps create atmosphere but anything more than four minutes starts to feel like a chore. By picturing your guests on arrival, you can think about the small touches that will make a big difference to their experience. Once you know your unique selling point you'll be able to figure out whether you should target families, couples or a different audience altogether.
2. Design
The design of your site plays a huge part in your customers' experience. The founding theme of glamping is about getting close to the great outdoors so try not to put too many barriers between the outside and in. It also pays to think about how the space will be used outside – for example putting play spaces where parents can still see their children while they relax near the accommodation.
When choosing your structure, it's also important to think about how many months of the year you want to operate. With canvas you're looking at a maximum of seven months in the year whereas a timber clad structure gives you nine to twelve months of operations.
Similarly, the lifespan of a structure needs consideration. Yurts can last for a number of years as long as the frame isn't exposed. But if you're putting them under softwood trees their lifespan is shortened. Colour also plays a part – choose green if you're placing your Yurt under trees as white can look grubby and run down after just a couple of seasons.
By thinking about handrails, steps, locations of fires and other important safety features early into your designs you won't need to make costly changes further down the line.
Also, don't assume you need Wifi these days. Many people go glamping to disconnect and get away from it all so a 12-volt setup which provides light and music could be all you need. It's all about knowing your target audience and catering to their preferences.
3. Preparation and planning
Getting your pre-application meetings lined up early is a good idea. You'll need to think about traffic and highways, ecological and wildlife surveys, environmental agencies, national parks and your parish council.
Consultants can help you on the way but you're the person who is integrated locally so are best placed to do a lot of this work. Traffic and highways are the main people you'll need to influence as objections tend to be around this area. While it's great to have a long-term plan, it is prudent to talk to these guys about where you'll be in a year or so. If you talk big you could incur extra cost and your business may not pan out in the way you envisaged.
In these conversations, don't forget that what you're doing is a positive thing so engage with locals in this way – talk about how you'll be bringing more trade into the community or creating new jobs.
During the planning phase you'll need to decide whether you're applying for 'change of use' or 'operational development'. Most holiday home sites with static caravans get 'change of use' planning permission. You submit concepts so can tweak things as you go. Operational development involves grounds works so the process is more rigid. You have to stick to the specific designs that are approved so there's no scope for making changes as you go.
You'll also need to develop a business plan. This can sound like a daunting task, but they can be just six pages long and quite simple. Again, a consultant could do this for you or check out YouTube for videos that will take you through the necessary steps.
4. Site preparation and landscaping
When figuring out the best orientation and positioning for your site, think about wind, sunrise and sunset. Are there any natural barriers or wind breaks you could employ? Can you work with the natural contours to make the site feel part of the surrounding land?
The best time to do this is in winter so you can see where the water runs, collects and pools and plan your drainage accordingly. It's also the time planting trees, flowers and bushes which will not only give added privacy but could make good scavenging activities for your guests. If you get your planting schemes right, you can also make sure you've got vases of local flowers for guests on arrival – a lovely touch that would come at no additional cost.
5. The build
If you commission your build in winter, you also can aim to launch in early summer.
It might be tempting to go for the cheaper options during build, but a small amount of additional investment can make all the difference. For example, if you're going for a timber clad structure try and find a local timber merchant or better use the materials from your own farm. Not only will it give you a story to tell in your marketing of the site, but you'll get a more rustic, natural finish.
Natural finishes for your interior design will also help to bring some of the outside in.
This is when you need to consider safety and certification. You need certified fitters for all gas and electrics by law. You don't necessarily need lighting all over your site – sometimes the excitement is in having a torch to find your way to your accommodation – but it is worth thinking about how you might light things like outdoor toilets or shower rooms.
Insurance is a key consideration at this time as well.
In thinking about the future maintenance of your site you'll need to overhaul with a lick of paint and deep clean once a year so try and schedule this for out of season.
6. Media and marketing
Gone are the days when an agency would come out and take a high quality professional photo of your site that you could then use for marketing. You have to source photos yourself and while going professional can feel like a lot of money, getting that one killer photo that will be used to sell your site can make a huge difference.
If you're starting out, you'll probably choose to go with any agency and can expect to pay around 25-29% of turnover plus VAT. So, you'll need occupancy at more than 65% in order to turn a profit.
Most agencies will have exclusive rights so make sure you choose one that is geared towards your target market and you're comfortable with fees. And don't forget that if you have more than one site you could go with multiple agencies in order to figure out which one gives you the best returns. You're also able to take direct bookings so think about where you can promote your business – from social media to local businesses to independent marketing firms who can help you get to that much-coveted number one spot on Google for search terms relating to glamping in your location.
And although treehouses are the current big thing, there's still a high demand for Yurts and other structures from which the glamping trend sprung. Treehouses can be prohibitive in costs (sometimes £65,000 for a two-man treehouse) so it might be worth thinking about what could be the next big thing…. perhaps dug out underground structures or roundhouses or straw bale clad houses?
Whatever the next big thing turns out to be, we think Edward's insights into this sector give some really practical pointers on things to think about to help make your glamping business one of the many successful agricultural diversifications in the UK.
And Edward's point about insurance was an important one. Some Farm Combined insurance policies will cover you for small glamping operations. Similarly, you may already have public liability and employer's liability insurance as part of your Farm Combined policy but the key here is to check with your broker or insurer. They'll be able to ensure you get the cover you need for your specific glamping operation.
Sources:
https://www.ibisworld.co.uk/industry-trends/market-research-reports/accommodation-food-service-activities/caravan-camping-sites.html